EVERY Iowa educator has access to a premium Pear Deck account! Pear Deck is an add-on for both Google Slides and Microsoft PowerPoint that allows you to transform your presentations into opportunities for formative assessment and active student learning.
What is Pear Deck?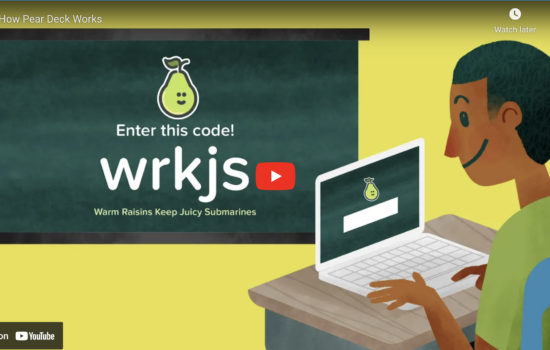 How Pear Deck Works
With Pear Deck, 100% student engagement is just a Deck away! Here's how Pear Deck helps create magic in your classroom.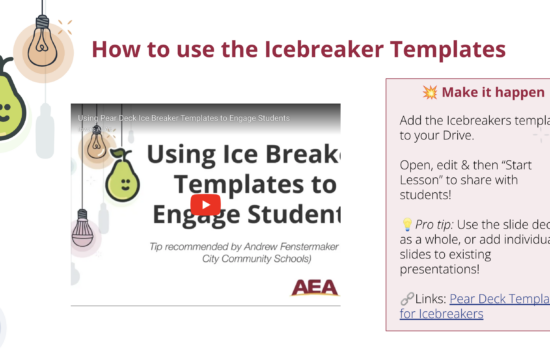 Ideas From Iowa Educators
Learn what Iowa educators are loving and recommending about Pear Deck!
---
Get to Know Pear Deck During the Monthly Sync
Brittany, from the Pear Deck team, will use the time to cover Pear Deck updates, dive into features, and highlight teachers in the state of Iowa. This is for Iowa educators to learn more about Pear Deck, but also to get your questions answered. To add your question or topic to the agenda complete this form prior to the sync session!
Virtual Sync Dates and Times
September 26, 2023, 3:30-4:15pm
October 24, 2023, 3:30-4:15pm
November 28, 2023, 3:30-4:15pm
December 12, 2023, 3:30-4:15pm
Register here for one or all of the monthly sync sessions
If you can't attend and have a question still post it and if you're registered you will get the recording!
---
Pear Deck Webinars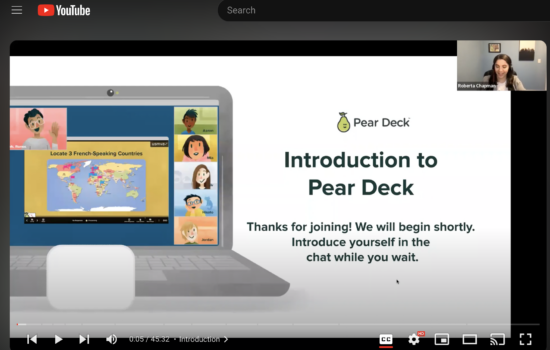 Pear Deck 101 for Iowa AEAs
This webinar is great for those who are just learning about Pear Deck and those who need a refresher.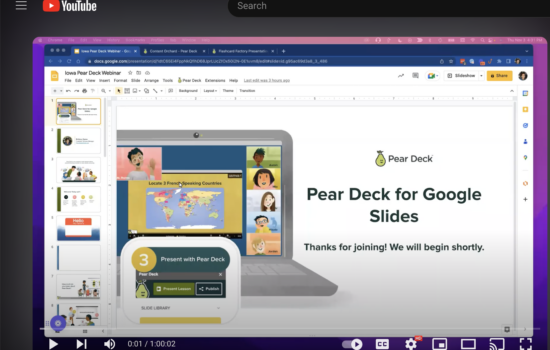 Harnessing the Power of Pear Deck
Resources from the "Harnessing the Power of Pear Deck" Webinar
Back to School, On Demand Webinars - Explore our mini-series of webinars for Pear Deck. Learn how to continue igniting the spark of student curiosity, discover how to easily and effectively collaborate with colleagues, and more.
---
Additional Pear Deck Resources
Resources for expanding your knowledge
Pear Deck Help Videos
Pear Deck Learning Resources
Resources for implementation of Pear Deck
Pear Deck for Progress Monitoring (resource put together by Central Rivers AEA)
Pear Deck Orchard (templates for a variety of subjects and topics)
Resources from your AEAs
Pear Deck Micro-Credential for Teachers (Green Hills AEA)
Intro to Pear Deck for Teachers (Heartland AEA)
Pear Deck Handbook (Grant Wood AEA)
Iowa's AEAs YouTube Channel
I love to use Pear Deck Factory with Spanish vocabulary. Sometimes I will use it as an anticipatory activity and sometimes I will use it to review learned vocabulary. Students love to work together and show everyone what they created during the quality control. I love how I can quickly give the entire class immediate feedback.

Paula Letsche, Spanish/ELP teacher, St. Paul's Lutheran School, Waverly
Want to know more?
Contact your AEA if you would like to learn more or have questions!