Thank you to all participants, providers, partners and sponsors to make CS PD Week a success!
Please fill out the feedback form you received by email to help us plan for future workshops. Any other questions can be emailed to iowa-cs-pd-week@gwaea.org
Summer 2024 location and date TBD (soon!)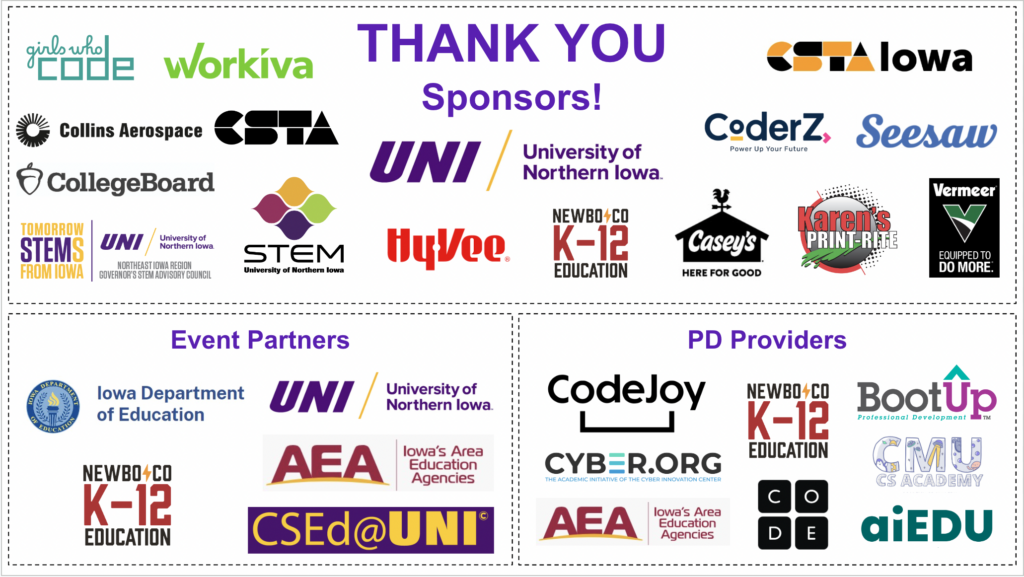 CS PD Week Resources
CS PD Week is Designed to:
Support State & K-12 District Computer Science Plans

State: deliver computer science educator development and training opportunities in person whenever possible
District: provide PD to help meet district plan goals and action steps

Provide Equitable Access to Computer Science PD Across the State

Helps meet minimum participant requirements for high-interest programs

Computer Science PD Needs Interest Form

400+ Responses from K-12 educators, instructional coaches and administrators
If you're interested in providing input about CS professional learning and receiving updates when details about sessions and funding are available, complete this Iowa Computer Science PD Interest Form if you haven't already.
Contact Your AEA Consultant with Questions
Planning Team