Save Instructional Time With Single Sign-On!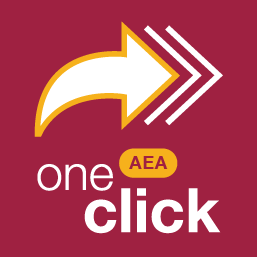 You can make the login process easier and more secure and save valuable instructional time when you give teachers and students single sign-on access to critical instructional resources with AEA OneClick!
Easy to implement, this resource gives teachers and students across the state consistent single sign-on access to digital resources and systems provided by Iowa's AEAs. Managed entirely by Iowa AEAs, AEA OneClick (powered by ClassLink) is also a low-maintenance solution for school administrators—no on-site district management is required to use this high-impact resource.
Demand is high to fit as much instructional time into the school day as possible. Discover how single sign-on can ensure students spend their class time learning, not struggling to log into and use digital resources. With easy access to digital resources, educators regain lost instructional time and bell-to-bell learning becomes a reality.
What Can You Access?
Through AEA OneClick, teachers and students use one password to securely access systems such as:
AEA Digital Resources
AEA Professional Learning Registration System
Student Personalized Learning System
Clearinghouse for Work-based Learning
Want to Know More?
This tutorial will show you how your district could implement AEA OneClick.
How Do I Get AEA OneClick for My District?
For more information on how to get your district set up with AEA OneClick, complete this AEA OneClick District Set-up Request form.