What is Computer Science?
Iowa defines computer science as understanding how and why technologies work, exploring whether and how technology could solve real-life problems, investigating procedures, creating solutions, and learning about computing systems, programming, data, networks and the effects on society and the individual. Learning computer science means learning how to create new technologies, rather than simply using them.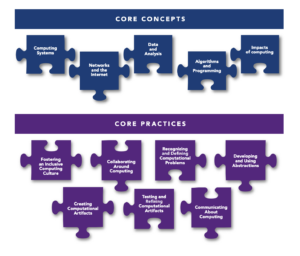 It is the vision of the state of Iowa that all Iowa students will engage in the concepts and practices of computer science through an intentional progression of experiences in order to prepare them to become enterprising citizens that positively impact society.
This vision is accomplished through the CSTA and Iowa standards that weave the Core Practices throughout the Core Concepts. You can find more about computer science in Iowa on the Iowa Department of Education website.
K-12 Computer Science Framework
Computer Science Standards (CSTA)
Iowa's AEAs are committed to supporting schools as they work to implement the Iowa Core Computer Science Standards. Area schools should contact a member of their AEA Computer Science Team for support.
SCRIPT
The SCRIPT — the Strategic CSforALL Resource & Implementation Planning Tool — is a framework to guide teams of district administrators, school leaders, and educators through a series of collaborative visioning, self-assessment and goal-setting exercises to create or expand upon a computer science education implementation plan for their students. Contact your AEA consultant for assistance.
Learn about the Standards
Iowa's computer science standards are the CSTA K-12 Standards, developed by the Computer Science Teachers Association. These standards are arranged in grade bands, with expectations at the K-2, 3-5, 6-8, 9-10, and 11-12 level.
Contact Your AEA Consultant with Questions