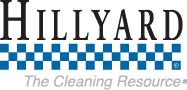 Hillyard is a leading manufacturer and distributor of cleaning and hygiene solutions. Helping people deliver clean, safe, healthy facilities is our purpose, passion and focus.
Contact

Ordering

Contract Info
How to Order
Shop online at HillyardB2B Site. Contact Hillyard to be set up with an online account.
Reference AEA Purchasing IFB 023-B on all POs, orders, quotes, etc.
All orders/POs should be directed to:
Hillyard
Jayme Mau
515-727-2133
jmau@hillyard.com
Benefits
Discount varies by item
3M: 25% off Floor Pads, Hand Pads & Accessories
GoJo: 10% off Entire GoJo Brand/Catalog
Hillyard Products: Cleaners & Chemicals, Restroom Cleaning Equipment, Hand Soap & Hand Sanitizer, Dispensers, Floor Equipment, Gator Matting, Floor
Stripping Pads, Floor Stripping Chemical, Floor Polish Accessories, Tile & Grout Cleaners
Nilfisk-Advance: 21% Entire Nilfisk-Advance Brand/Catalog
Rubbermaid: 35% Entire Rubbermaid Brand/Catalog
Contract Info
| | |
| --- | --- |
| Cooperative Name | AEA Purchasing / AEPA |
| Contract Name | Custodial Supplies & Equipment |
| Contract Number | AEPA 023-B |
| Contract Term | Contract and extensions possible through 2/28/27 |
| Categories | Buildings & Grounds |
| | Nationally Bid, Locally Awarded. This contract was competitively bid on a national level by AEPA, of which AEA Purchasing is a member. Visit www.aepacoop.org for more information. |
Info

Contact

Ordering

How to Order

Shop online at HillyardB2B Site. Contact Hillyard to be set up with an online account.
Reference AEA Purchasing IFB 023-B on all POs, orders, quotes, etc.

All orders/POs should be directed to:

Hillyard
Jayme Mau
515-727-2133
jmau@hillyard.com

Contract Info

Benefits

Discount varies by item

3M: 25% off Floor Pads, Hand Pads & Accessories
GoJo: 10% off Entire GoJo Brand/Catalog
Hillyard Products: Cleaners & Chemicals, Restroom Cleaning Equipment, Hand Soap & Hand Sanitizer, Dispensers, Floor Equipment, Gator Matting, Floor
Stripping Pads, Floor Stripping Chemical, Floor Polish Accessories, Tile & Grout Cleaners
Nilfisk-Advance: 21% Entire Nilfisk-Advance Brand/Catalog
Rubbermaid: 35% Entire Rubbermaid Brand/Catalog

Contract Info

| | |
| --- | --- |
| Cooperative Name | AEA Purchasing / AEPA |
| Contract Name | Custodial Supplies & Equipment |
| Contract Number | AEPA 023-B |
| Contract Term | Contract and extensions possible through 2/28/27 |
| Categories | Buildings & Grounds |
| | Nationally Bid, Locally Awarded. This contract was competitively bid on a national level by AEPA, of which AEA Purchasing is a member. Visit www.aepacoop.org for more information. |

Promotions